The Sea Shepherd Global Fleet
Neptune's Navy serves to protect and defend the world's oceans and marine wildlife.
Since 1977, a number of vessels have served in the Sea Shepherd fleet to protect marine wildlife in direct-action campaigns around the world. Today our international fleet includes eleven ships and several smaller boats used in various ocean conservation campaigns. Four of these ships are owned and managed by Sea Shepherd Global: M/Y Ocean Warrior, M/Y Bob Barker, M/Y Sam Simon and M/Y Brigitte Bardot.
M/Y Ocean Warrior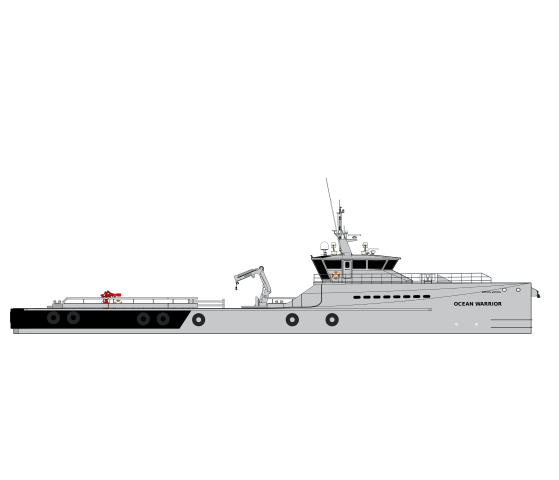 Overview
On January 26, 2015, at the annual Goed Geld Gala (Good Money Gala) hosted by the Dutch Postcode Lottery in Amsterdam, Sea Shepherd Global was awarded €8.3 million for a "Dream Project" vessel built to "Stop Illegal Fishing in the Southern Ocean". It was constructed by Dutch shipbuilder Damen in the port of Antalya, Turkey, and christened Ocean Warrior in September 2016. Its maiden voyage was M/Y Operation Nemesis, Sea Shepherd's 11th Antarctic Whale Defense Campaign, in 2016/2017. Interesting Fact: The M/Y Ocean Warrior is Sea Shepherd's first custom-built ship, and the fastest in its fleet, reaching speeds up to 30 knots.
Technical Information
Type

Patrol vessel

Launched

2016

Weight

439GT

Length

54m

Speed

25+ knots

Max Crew

16
The M/Y Bob Barker confronting the Japanese whaling fleet in Antarctica
M/Y Bob Barker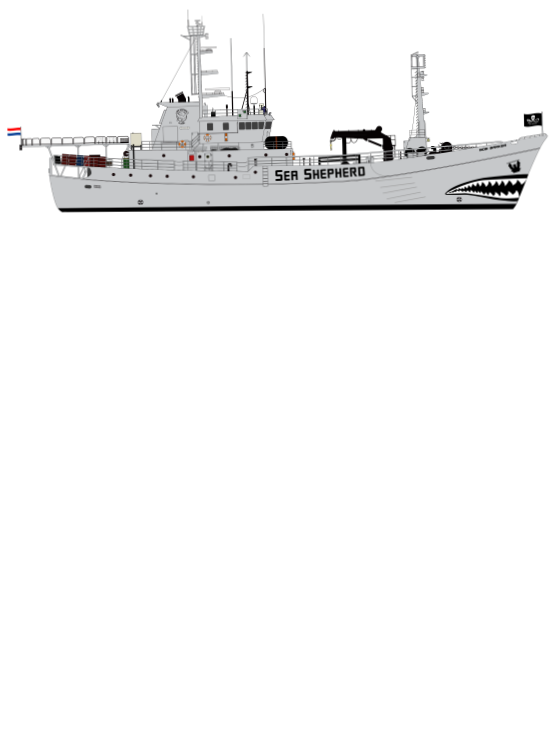 Overview
Thanks to a $5 million contribution from the legendary American game show host Bob Barker, in 2009 Sea Shepherd secretly purchased and refitted a former Norwegian whaler in Africa. The ice-strengthened chaser boat quietly departed from Mauritius on December 18th for its first mission against the Japanese whaling fleet, Operation Waltzing Matilda. Interesting Fact: The Bob Barker originally operated as a whaling ship until 1962, and later confronted Sea Shepherd during its life as a Norwegian Coast Guard vessel.
Technical Information
Type

Long-range ice class research vessel

Launched

1950

Weight

488GT

Length

52.2m

Speed

15+ knots

Max Crew

36
M/Y Sam Simon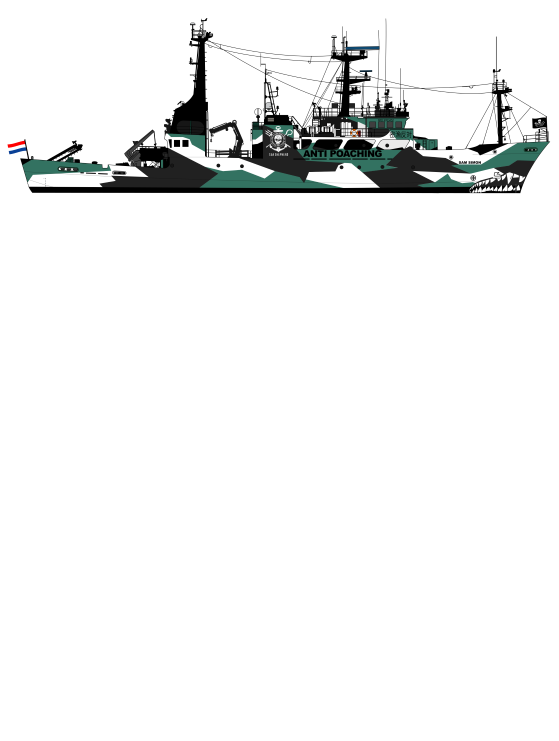 Overview
The Sam Simon was named after the Hollywood producer most famously known for developing The Simpsons, an animal rights advocate who served on Sea Shepherd's Board of Advisors until his passing in 2015. His generous donation made it possible to purchase the former Japanese vessel in 2012, when it joined its first Antarctic Whale Defense Campaign that December, Operation Zero Tolerance. Interesting Fact: The Sam Simon, originally named the Seifu Maru, was a Meteorological Observation Ship for the Japanese whaling fleet.
Technical Information
Type

Research/survey vessel

Launched

1993

Weight

720GT

Length

56m

Speed

15+ knots

Max Crew

30
M/Y Brigitte Bardot in the Southern Ocean
M/Y Brigitte Bardot in the Southern Ocean
M/Y Brigitte Bardot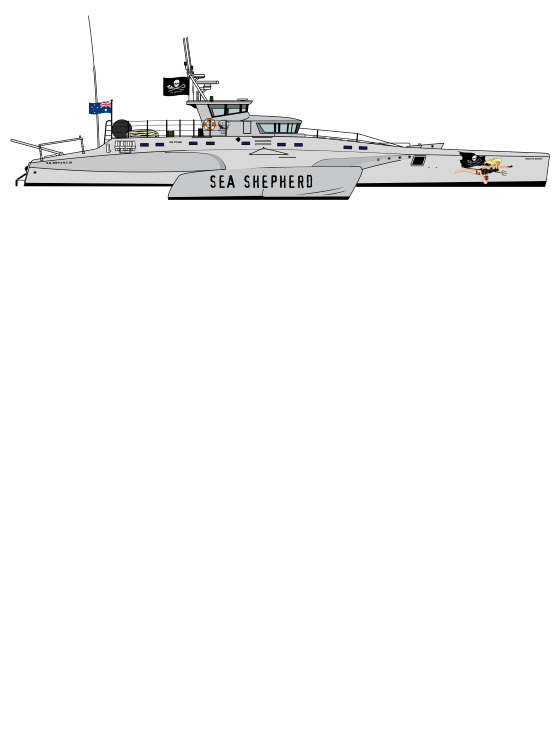 Overview
Purpose-built in the UK to set a record circumnavigation of the world (accomplished 1998), the Ocean 7 Adventurer trimaran was purchased by Sea Shepherd in 2010 and renamed M/V Gojira (the original pronunciation of Godzilla) to join Operation No Compromise in Antarctica. After a legal claim, it was renamed M/Y Brigitte Bardot in honor of the French actress and animal rights activist who accompanied Captain Paul Watson on Sea Shepherd's 1977 seal defense campaign in Canada. In 2011 the vessel's hull was cracked by a 6-meter rogue wave during Operation Divine Wind, and had to return to port for repairs. Interesting Fact: The M/Y Brigitte Bardot set the record for travelling further south than any other multi-hulled yacht.
Technical Information
Type

Tri-Stabilized Monohull

Launched

1998

Weight

95GT

Length

34.9m

Speed

21 knots

Max Crew

10
M/Y Steve Irwin and the Humber small boat
M/Y Steve Irwin (Retired)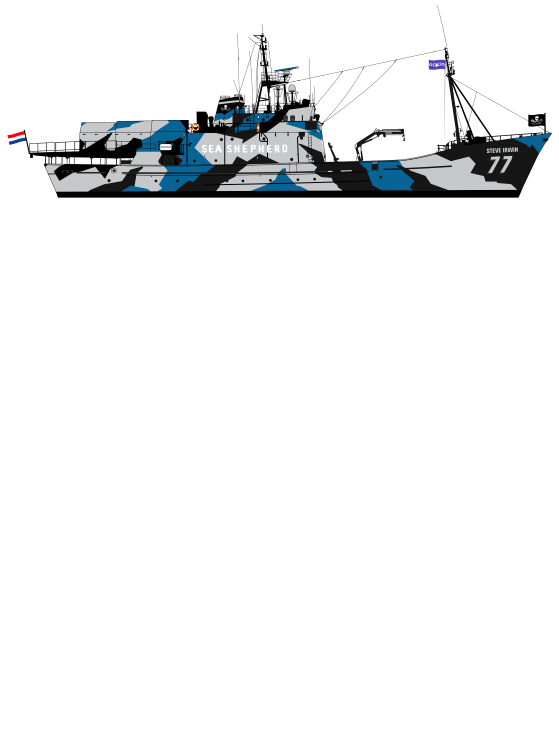 Overview
Purchased in 2007, Sea Shepherd's former flagship vessel was previously operated by the Scottish Fisheries Protection Agency. It was initially named M/Y Robert Hunter after the Canadian co-founder of Greenpeace who died in 2005. Its first expedition was the 2006/2007 Antarctic Whale Defense Campaign Operation Leviathan. The ship was renamed M/Y Steve Irwin in December 2007 in honor of the late Australian conservationist and Sea Shepherd supporter. Retired in 2018, the Steve Irwin has embarked on more ocean defense campaigns than any other current Sea Shepherd vessel.
Technical Information
Type

Island class patrol vessel

Launched

1975

Weight

1017GT

Length

59.5m

Speed

15 knots

Max Crew

40